Welcome to The Purple Sock!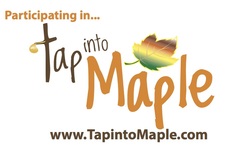 One of the most important things to me about being the owner of a yarn shop is that I get to showcase local Ontarian and Canadian products.
Whether it is Fleece Artist yarns from Nova Scotia, to Sweater Kits yarns from Ontario, to the newest line I am carrying - incredible
wooden buttons, toggles and shawl pins from a woodlot in Ontario - this is what I aim to do; showcase, promote and sell the very best that our area has to offer.
And speaking of showcasing...this is a special event with which I am so excited to be involved! " Tap Into Maple" is the newest presentation from Ontario's Lake Country. From March 1st through May 31st, a total of 23 "Maple Destinations" will captivate and entice you with everything from Pancake Breakfasts to Maple Syrup Festivals to a special Mothers Day Tea....and in addition, there are discounts offered at many local shops, including of course,The Purple Sock!
So, please stop in, pick up your brochure and see what is being offered for your tasting, staying, enjoying and shopping pleasures! And don't forget, get your "Tap Into Maple" Passport stamped and get a chance to win a gift basket worth over $500.00!! For more information, click the Tap into Maple logo.
We carry patterns by Cabin Fever, a local company run by two sisters and handcrafted soaps by Cedar Point Soaps from just around the corner in Waubaushene Ontario. I just love doing this; finding and promoting small, speciality companies run by fabulous women with a passion (I guess that would include me!!)
In addition, The Purple Sock is also home to another passion of mine; wonderful teas from around the world. I sometimes wonder which I
love most... knitting or tea? But luckily, here I can combine both!
So please drop by when you can, stay for a "Sip & Stitch" session, and just wile away a few minutes in my little gem of a shop...you
are always welcome here!
If you would like to be added to our Newsletter list, please go to the
blog
and enter your e-mail in the box under "Follow by e-mail" at the top of the right hand column, Then you will be kept up to date with the goings-ons here at the store.
Happy knitting to all!
Lynn
---