Events & CLASSES
Sip and Stitch Wednesdays 10 AM to 12 Noon
Sip and Knit Thursdays 10 AM to 12 Noon
Sip and Spin Fridays 10AM to 12 Noon
Fix Me Fridays 1:30 to 3:30 pm (see details below)

We usually have several Knit-A-Longs in progress. For information about current or upcoming KALs please call or send an email inquiry.

All are welcome, hope to see you there.

I am proud to be a part of the Lakeside Yarn Crawl again in 2017. This fun event runs from June 3rd to September 4th and again features prizes from all participating shops as well as a Grand Prize to be won by one lucky 'crawler' who visits EVERY shop. Can you say "ROAD TRIP!"
Upcoming Classes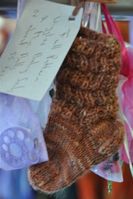 .


Fix Me Fridays - friday afternoon "Help Centre"

Every friday from 1:30 to 3:30 Cathy McCracken will be available to help you banish those knitting gremlins! Problems with a new cast on? Screwed up your cable? Not sure how to pick up stitches around the neck of your sweater? Need help reading your pattern? Totally cannot figure out the heel of your sock? Or just wanting to learn how to knit. For $12.00 you will receive 2 hours of help with these or pretty well any knitting problem. Space is limited to 5 people to ensure adequate assistance for all attendees - please pre-register by contacting the store in advance.





We will be starting up again in the Fall of 2017 ...hope to see you then...


---